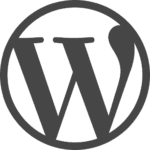 We love WordPress! This site, in case you didn't realise, runs very happily on WordPress and we want to help you discover how easy it is to implement and manage a WordPress based blog or site.
WordPress is not simply about creating 'blog' style sites as many would think though: we strongly believe the WordPress system is the best base for virtually ANY web site idea you may have. Don't believe us? Well you can use WordPress to power a Content Management System (CMS) style web site, an image gallery style site, an entire intranet, ecommerce sites, social networking sites and many more…
All of the above site types have been built using a WordPress based system for one key reason – simplicity. The core WordPress user editing features allow you to get on with writing the content and not worry about technical issues… for example FTP file transfers are taken care of automatically behind the scenes and URLs are rewritten to make them easier for search engines to work with by default.
Another huge factor in The Blog House building a lot of client sites on the WordPress system is the availability of WordPress Plugins to extend the standard functionality of WordPress even further.
Want to add a shopping cart to your site? There are several plugins for that… Want to add social bookmarking links to all the content you write? There are several plugins for that… We have created a whole area of The Blog House to discuss the never ending world of WordPress plugins here: WordPress Plugins Be sure to check it out to see some of the possibilities out there and of course keep an eye on out WordPress Plugins Blog area where we post about our favourite plugins, write helpful hints and tips about using plugins and offer the odd tutorial.
Not only does the standard WordPress system allow you to do all of the above there are 3 additional 'flavours' of the WordPress system you can use which are each targeted at specific types of web sites and needs:

WordPress network or multisite
Are you looking to start hosting and managing multiple WordPress blogs / sites all from one WordPress installation?
If so you need to look at the multisite feature of WordPress or WordPress MU as it used to be called pre WordPress 3.0. With a WordPress multisite set up you can:
Get your main blog or site up and running quickly and manage this main blog via a single intuitive WordPress administration interface.
Either allow users to create their own blogs / sites on your web server or create these for them using a sub domain e.g. JoeBloggs.mysite.com or sub folder e.g. mysite.com/joebloggs
Manage all the blogs / sites on your web hosting plus themes, users and plugins from 1 central, super user WordPress administrator account using the familiar and easy to use WordPress Dashboard system.
BuddyPress

Are you looking to build a new community type site that is easy to manage, updated regularly and has a fanatical set of coders updating and extending the system constantly?
Do you want to add social networking to your existing, non blog style web site but have no idea how to go about it?
Do you want to offer everything WordPress multisite does AND allow social interaction between ALL of your registered WordPress multisite users?
If so BuddyPress extends WordPress MU and brings social networking features to a new or existing installation via a collection of WordPress plugins and themes.
The BuddyPress system can be themed to match your existing corporate style, in just the same way as a normal WordPress blog so you can effectively 'slot in' a whole new social networking area into an existing site. BuddyPress comes bundled with a default theme to get you started but here at The Blog House we can work with you to create a bespoke BuddyPress based site that will get your visitors interacting and staying on your site for longer. Check out our BuddyPress specific area: BuddyPress Services
bbPress

Are you looking to get your users discussing issues and ideas in a forum?
Are you worried about forum software leaving you exposed to the latest hacking exploits due to horror stories from your web host?
Been bitten in the past with slow, bloated forum or bulletin board software?
bbPress is a plain and simple forum software that is easy to use, easy to administrate, fast and clean. Created by the WordPress team, using bbPress means you will spend less time worrying how to keep things running smooth and safe and more time getting involved with your web site's users.
Check out our bbPress specific area: bbPress Services
As you can see the WordPress family of software has something for everyone and with the thousands of plugins, vibrant developer community coupled with The Blog House's specialist knowledge we can turn any of your web site ideas into a professional, up to date, highly customisable and easy to use web site that will get your site's traffic increasing from day 1.